City of Monterey – Budget Deliberative Forum Story
Community: City of Monterey (Monterey County)
Population: 27,823 (2009)
Summary
In 2010, the City of Monterey engaged staff and residents in a priority-based budgeting process to determine how to best address reduced revenues and a five million dollar budget gap. Rather than make across the board cuts, the city brought in experienced consultants to help them engage staff and residents in transparently crafting a budget linked to results and values most important to the community. The city hired consultants who have developed and refined a process for aligning city resources and services with community values that has also been adapted for use in Walnut Creek, Fairfield, and 14 other communities. Residents were asked to further define broad goals set by the City Council, and then to prioritize how they wanted their tax dollars spent to achieve those goals. After extensive public education and outreach, an internal staff dialog and four facilitated public meetings, the consultants will report what they have learned about the priorities of the more than 600 Monterey residents who engaged in the process to the City Council in February of 2011.
Process Highlights and Results
City staff worked with consultants from the Center for Priority-Based Budgeting to adopt a priority-based budgeting process endorsed by the International City/County Management Association and the Government Finance Officers association.
Residents and staff participated in one of four facilitated public meetings in the fall of 2010. These three hour sessions involved educational presentations, a facilitated "appreciative inquiry" process, a "Green Screen" goal definition dialog, and an exercise where people were asked to allocate $500 hypothetical tax dollars to support the things they wanted most from city services. More than 600 residents allocated their hypothetical tax dollars at public meetings and online.
An aggressive and multi-faceted educational campaign about the process and how to get involved enabled the city to engage numerous and diverse residents.
Two public meetings in 2011 will allow residents to hear the results of the process and how it affects the final budget.
By making the tax dollars allocation exercise available online and taking it to groups in the community, the city got input from many residents and not just those who often showed up to city hall with the same axe to grid.
Staff and residents appreciated the opportunity to have productive dialog about what the community valued most.
Videos of presentations about the process and public meetings were broadcast on public access television and posted on the city website to increase transparency, understanding, and participation in the process.
City officials report that the process has resulted in a higher level of understanding about what the city does among residents. They are optimistic that this more knowledgeable citizenry will be more engaged in volunteering and partnering with the city to address issues in the future.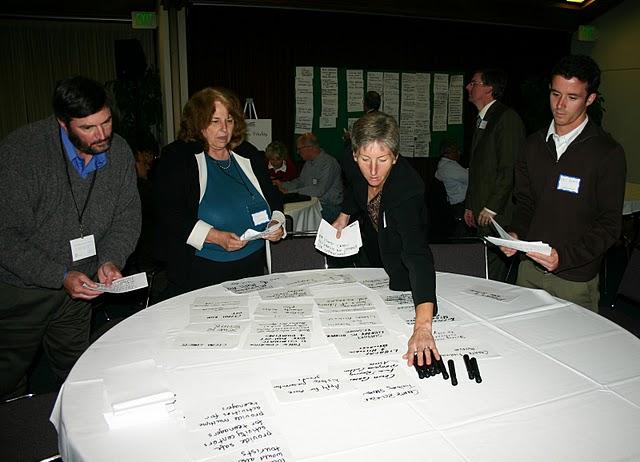 Lessons Learned
Successfully engaging a representative cross section of residents requires reaching out in many different ways. A combination of newspaper and television coverage, online social media and email outreach, a presentation explaining the process broadcast on public access television, and sending city staff to speak with boards, commissions, and neighborhood associations helped the city let residents know how and why to get involved.
The city's Sports Center and Library were good places to engage Monterey residents. "Go to where the people are and engage them there."
Making a budgeting exercise available online, at community and senior centers, high schools, and the weekly Farmers' market can help to involve new and diverse people. Allowing people to get involved at different times of day and on different days is another way to enhance and diversify participation.
Coordinate with other local agencies when deciding when to offer civic engagement opportunities in order to avoid scheduling conflicts.
Allowing residents to see the trade-offs involved in balancing the city budget using a budgeting exercise was very effective. An often heard comment was that people had not realized the wide scope of services provided by the city.
"Drop In" events where residents can stop by during a window of time to complete an exercise or survey and talk to city staff give busy people a way to engage in a local issue without having to commit to meeting at a specific time, and may broaden participation.
Make sure to connect the dots and provide participants an opportunity to know how public input affected final decisions so that people don't feel they came to a meeting for nothing.
Allowing more than a year to engage staff and the public in thoughtful dialog about the budget was essential. This gave staff time to understand and be a part of the process and to engage people from all over the city.
Asking people to prioritize services but not particular programs kept the process positive and focused on what residents really want from city government.
It is important to be affirmative; don't ask people what they want cut, ask them what they value the most in their city services.
Resources to Learn More
Related Links