Health Data for COVID Recovery Decision-Making – A Snapshot of Anthem's C19 Explorer Tool.
Recorded Presentation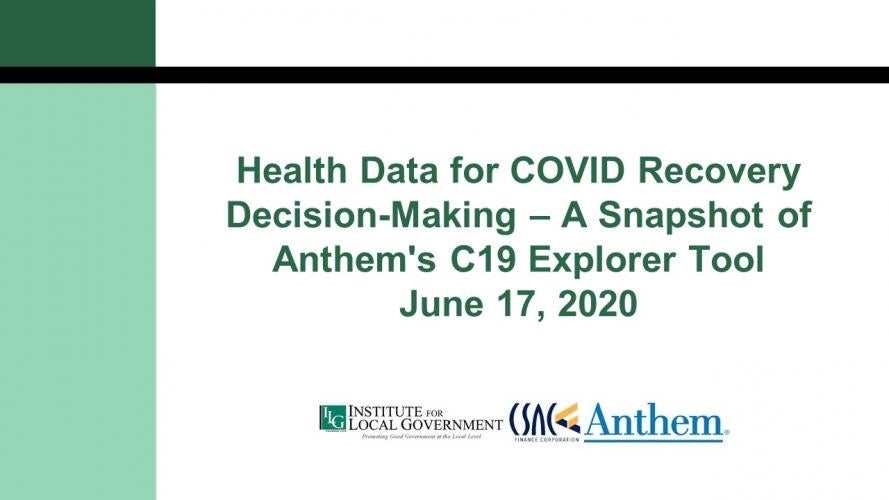 Materials
Presentation for Anthem C19 Explorer Tool
Decision-Making and COVID Recovery – Interactive C19 Tool
Learn about Anthem's new C19 Explorer dashboard that uses a unique breadth of localized data to support citizens and leaders as they navigate recovery in a COVID-19 era. C-19 Explorer is available to the public, elected, and appointed officials in an effort to strengthen data-driven decision-making using the most up-to-date health data. In a rapidly changing environment, access to critical data drives effective recovery for community, economic and social health. The C19 Explorer creates powerful visualizations of actionable metrics tailored to the local level.
Panelists
Bobby Samuel, Anthem BlueCross, bobby.samuel@anthem.com

Tashfeen Suleman, Cloud MedX, tashfeen@cloudmedxhealth.com

Jim Manker, CSAC Finance Corporation, jim@csacfc.org

Melissa Garret, Anthem BlueCross, melissa.garrett@anthem.com

Jeff Eker, Anthem BlueCross, jeffrey.ekerjr@anthem.com

Randi Kay Stephens, Institute for Local Government. rstephens@ca-ilg.org (Host)
We are grateful to our affiliate organizations — the League of California Cities, the California Special Districts Association and the California State Association of Counties — for their support of and participation in ILG's many training and education activities.