Shasta Regional Transportation Agency (SRTA)
Metropolitan Planning Organization Profile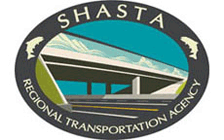 About SRTA
The Shasta Regional Transportation Agency (SRTA) is the metropolitan planning organization (MPO) and the regional transportation planning agency for Shasta County. SRTA is made up of representatives from local government and transportation authorities. SRTA seeks to maximize state, federal and other revenues for cost-effective transportation investment strategies that connect communities, people and goods.
Members: County of Shasta; Cities of Anderson, Redding and Shasta Lake; Redding Area Bus Authority
Transportation and SB 375
Regional Transportation Plan
The regional transportation plan (RTP) is a long-range planning and policy document, updated every 5 years, that establishes regional priorities for all modes of transportation region-wide over a 20-year horizon. Transportation projects must be specifically listed in the RTP to qualify for state and federal funds. The RTP also addresses transportation-related issues such as air quality, land use and environmental impacts.
SRTA adopted their most recent RTP in July 2010.
Sustainable Communities Strategy
The California Air Resources Board established regional targets for the reduction of household-based vehicle greenhouse gas emissions as a function of regional land use patterns in 2011. The SRTA is required to develop a Sustainable Communities Strategy (SCS) for achieving regional targets. For the Shasta County region, targets are set at zero per capita increase in greenhouse gas emissions in 2020 and 2035, relative to a 2005 baseline.
Public Participation Plan
Shasta Regional Transportation Agency adopted a new Public Participation Plan in June 2013. The Public Participation Plan outlines the ongoing process by which SRTA establishes a working relationship with the community and maintains open communication channels. The goals of the Public Participation Plan are:
Ensure equitable, comprehensive access to all planning processes and decision making.
Employ the most approachable, relevant, and effective strategies.
Provide meaningful opportunities for the public to affect regional plans and programs.
Housing
SRTA is not a council of governments and therefore has no explicit purview over the Regional Housing Needs and Allocation (RHNA) process. As such the RHNA process is administered by the California Department of Housing and Community Development.
Other Programs and Projects
Regional Bike and Pedestrian Information
SRTA hosts various local bike and pedestrian maps on its website. SRTA was also involved in developing the Pit River Tribe/Burney Bicycle and Walkway Plan, through the technical advisory and community advisory committees.
Videos