Kings County Association of Governments (KCAG)
Metropolitan Planning Organization Profile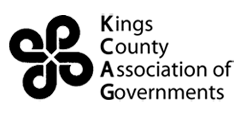 About KCAG
The Kings County Association of Governments (KCAG) is the metropolitan planning organization (MPO) for the Kings County region. KCAG is a joint powers authority which serves as a pass-through agency for transit and transportation funding. Additionally, KCAG is a coordinating body for multi-jurisdictional and interregional issues.
KCAG receives direction from its Transportation Policy Committee and the Technical Advisory Committee. Representatives from each of their member agencies serve on these committees. Caltrans District 6 staff also serve in an advisory role. KCAG coordinates with the other seven San Joaquin Valley MPO's on regional projects.
Members: Kings County; Cities of Avenal, Corcoran, Hanford and Lemoore
Transportation and SB 375
The Kings County 2011 Regional Transportation Plan (RTP) was adopted in July 2010 and intended to be used to guide state and local officials as they strive to upgrade the overall transportation system in Kings County. In addition, this plan is a data source and information document for the general public. The draft for this plan has been written.
Development of the Kings County 2015 Regional Transportation Plan is underway. The RTP will evaluate the current transportation system and outline future transportation needs.
Sustainable Communities Strategy
KCAG will release its Sustainable Communities Strategy (SCS) in conjunction with the Kings County 2015 Regional Transportation Plan. Pursuant to SB 375, KCAG must demonstrate how its region will reduce greenhouse gas emissions five percent by 2020 and 10 percent by 2035.
Public Participation Plan
The KCAG Public Participation Plan was adopted in December 2011 to address all aspects of public involvement, from the transportation planning to dissemination of information. The plan seeks to identify strategies to inform and encourage community participation.
In June 2013, KCAG adopted a complementary public participation plan specific to the development of the RTP and SCS. KCAG felt that a separate and supplemental public participation plan, consistent with the 2011 plan, would be the most efficient and user-friendly format to detail the focused outreach strategy. This plan was again revised in February 2014.
Housing
The 2008 Kings County Regional Housing Needs Allocation Plan was adopted in August 2008 and plans for January 1, 2007- June 30, 2014. The housing needs allocation serve as the basis for city and county housing element updates.
Other Programs and Projects
King County-wide Climate Action Plan
KCAG received a $385,000 planning grant from the Strategic Growth Council to develop a county-wide greenhouse gas inventory and climate action plans on behalf of its member agencies.
Climate Change & Public Health
KCAG works closely with the Kings County Department of Public Health and the Kings County Obesity Coalition to promote active transportation in our communities.
Videos