Ventura County Civic Alliance
Civics Education & Work-Based Learning Experiences in the Cities of Oxnard and Camarillo and the County of Ventura
Ventura County Civic Alliance and its partners have four goals in developing their Summer at City Hall experiences:
Create a high school to career pipeline to ensure a more diverse and prepared public sector workforce.
Expand Youth Civic Engagement opportunities including community leadership, volunteerism, advocacy, activism, voting and philanthropy.
Increase youth knowledge of how local government operates.
Strengthen intergenerational relationships and improve adult knowledge of youth and youth issues/concerns.

During their time they got to meet with city and county officials. Oxnard's Mayor and the Deputy City Manger explained the importance of being engaged in community. The City Clerk and County Clerk also gave information on the importance of voting on important laws and issues within their communities and the process of running for city, county and state offices.

- Mary Anne Rooney, Ventura County Civic Alliance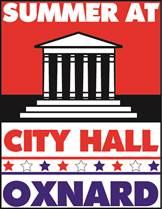 Oxnard began its Summer at City Hall experience in 2016 to build upon the City Council's March 2015 resolution declaring itself a Linked Learning City. The city partnered with the Oxnard Unified High School District (OUHSD) and the Ventura County Civic Alliance (VCCA).
About Oxnard's Summer at City Hall
The SACH experience served 13 underserved/underrepresented youth in 10th, 11th and 12th grade, aged 15-17. The program provided youth the opportunity to learn skills and knowledge such as:
Public speaking
Job readiness
Employability skills
Computer skills
Public service knowledge
City and county government functions
College and career pathway experience
Public engagement
Highlights
Five week program curriculum for SACH
Internships for each student in the amount of 45 hours and received recognition by the OUHSD (see document at right)
Each student received school credit in the amount of five (5) credits
Donation in the amount of $5,000 to pay for stipends for the students internship was secured
Students presented their projects at a session with leaders of the City, OUHSD staff, and VCCA members
Video documenting the program and student projects was developed
Students and participants made a presentation at City Council meeting
City benefited from youth experience and abilities with the completion of the following student projects:

Parklet Pilot Program Guideline booklet developed for the Development Services Department
Flyer and participation in the Stand Down initiative with the Fire Department
Snap Chat page for the Public Relations Department
Public Safety Announcement for the Police Department
Assistance with the Summer Reading Program for the Library Department
Flyer for a community arts program for the Performing Arts and Convention Center

Internship Experiences
Digitizing archived data
Creating public service announcements
Updating websites
Cataloging and inventory of hardware
GIS tracking and update of software
Review of files for desalination project
Archiving City Clerk files for expansion of vault
Growth of Student Participation in Ventura County GEY Models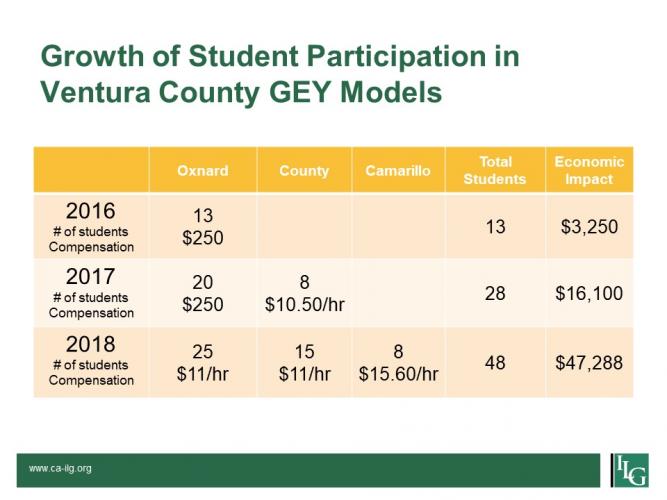 Oxnard SACH Youth and Staff Experience (Videos)
In the video below, hear from youth and staff about their experience participating in Oxnard's SACH. Youth learned about civics and local government and shadowed in seven departments, including:
Public relations
Fire
Library
Development services
Police
Parks and recreation
Performing Arts and Convention Center
Internship highlights and impacts are shared in this video featuring youth, staff and thank yous to the generous sponsors.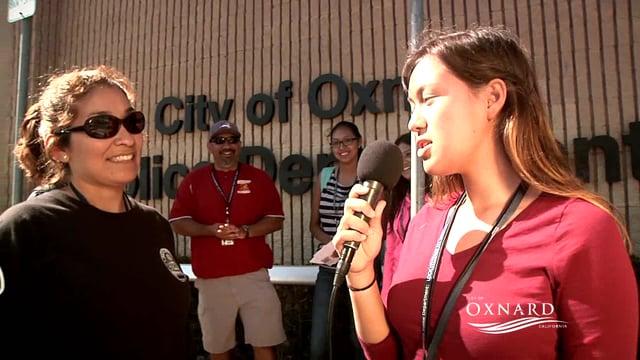 Oxnard's Interns share their experience and interview agency staff about SACH.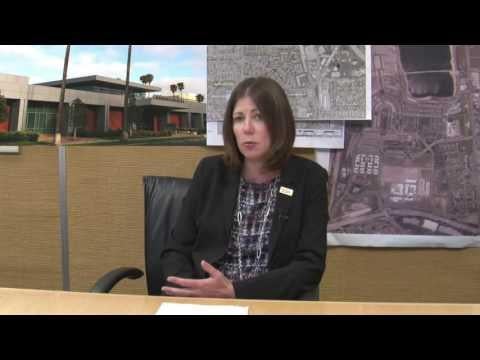 Why Internships Matter from a City Professional's Perspective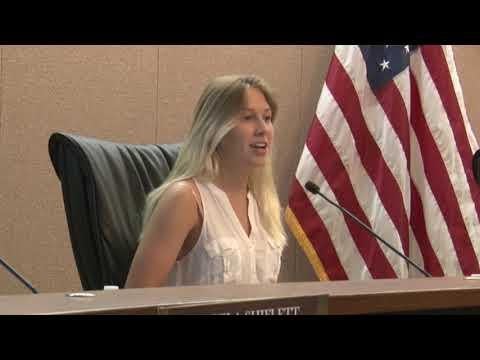 Highlights from the City of Camarillo's Summer at City Hall Experience
Collaboration Among Partners
Oxnard is a community that has taken a unique approach to supporting youth through a highly collaborative effort uniting OUHSD, VCCA and many partners. The network of partners includes:
Employers
Workforce Investment Board
Community based organizations
Economic development partners
Elementary schools
County Office of Education
Colleges and universities