Understanding the Basics of Public Service Ethics Laws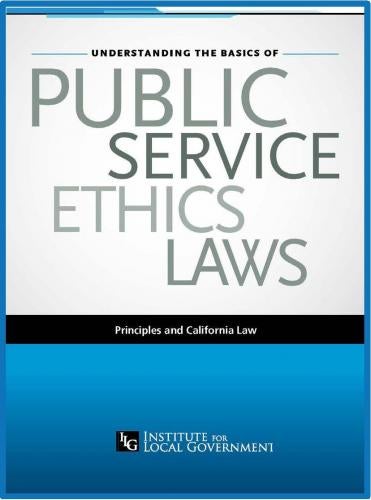 This free e-booklet helps California local officials understand the state's various ethics laws. The e-booklet is written in plain language, but also contains extensive endnotes for those wanting additional information.
Because the law is in flux, the publication is available in electronic format only at this time. See right (last on the list) for a downloadable pdf version of the entire publication.  
As a convenience, individual chapters from Understanding the Basics of Public Services Ethics Laws are also available:
The Institute is very grateful to the law firms whose commitment to the Institute's work and financial support made this free resource possible.  See list at right.
The Institute encourages all California local agencies' use of these materials.  Please feel encouraged to forward the link to these materials (www.ca-ilg.org/EthicsLaws), link to them to on agency (or agency association) websites, and/or download and print out copies for training and other purposes.