Beacon Award Participant Profile
City of Manhattan Beach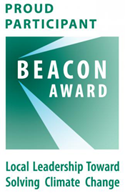 "Manhattan Beach has a long history of environmental sensitivity and activism, as a community and as a city government. In the coming months and years we will be taking these efforts to new levels as the City Council has made sustainability a priority goal. Over half of this year's City Council work plan relates to green issues, and there will be plenty of opportunity for our local businesses and residents to be involved in taking action to protect our environment." – City of Manhattan Beach Going Green Website
Beacon Award Accomplishments
Click here to read about Manhattan Beach's completed Best Practice Activities and accomplishments to date.
About Manhattan Beach
Incorporated: 1912
Population: 35,135 (2010)
Location: 19 miles Southwest of Los Angeles on the South end of Santa Monica Bay
Elevation: 120 feet
Area: 3.88 square miles
Manhattan Beach Climate Action Activities
ICLEI member
Completed Greenhouse Gas Inventory
Completed Municipal Climate Action Plan in collaboration with the Environmental Task Force, April 2010
Community Climate Action Plan in process
Adopted Tree Preservation Program in 1993 and expanded in 2003
Retrofit and replaced all lighting at city facilities in 1995
Replace existing city fleet vehicles with low-emission vehicles where feasible
Completed LEED Certified Police and Fire Facilities, 2006
Established the Green Team in Summer 2007 to compile data on the City's own environmental programs, research successful programs and best practices implemented in other communities, and develop a list of actions for future consideration by City Council.
Endorsement of U.S. Mayors Climate Action Protection Agreement, 2007
Adopted Plactic Bag Ban and Reusable Bag Program, July 2008
Conducted comprehensive bikeway study, 2009
Created Environmental Taskforce, 2009
Adopted New Water Conservation Ordinance with Permanent Water Conservation Requirements, July 2009
Adopted Green Purchasing Plan, 2010
October 2010 Manhattan Beach supported the Global Environmental Movement and hosted a Sustainability Summit and Eco-Fair, 350 International Day of Climate Action, Earth Hour. 350 parts per million is the upper limit of carbon dioxide that leading science tells us we should have in the atmosphere.
Climate Action Resources
Video Clips
| | | | | | | |
| --- | --- | --- | --- | --- | --- | --- |
| | | | | | | Sustainability in the City of Manhattan Beach |
Spotlight on Engaging the Public & Promoting Community Action
Spotlight on Energy Efficiency, Renewable Energy & Green Building
The Beacon Award program is sponsored by the Institute for Local Government and the Statewide Energy Efficiency Collaborative. SEEC is an alliance between three statewide non-profit organizations and California's four Investor-Owned Utilities funded by California utility ratepayers and administered by Southern California Gas Company, San Diego Gas & Electric Company, Pacific Gas and Electric Company and Southern California Edison, under the auspices of the California Public Utilities Commission www.californiaseec.org