Chuck Perkins
Deputy Director/Transit, City of Simi Valley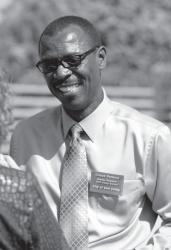 About Chuck
Chuck was first hired by the City of Simi Valley as a Transit Supervisor in 1990; then, served as Transit Superintendent from 1995 to 2005, before being promoted to his current position. He is currently on paid leave due to personal issues which were not disclosed.
Chuck is a dedicated Transit professional, who is well known for the notable accomplishments and enhancements made during his tenure in the area of public transportation. In addition to overseeing the planning and construction phases of the Transit Maintenance Facility expansion, Chuck successfully:
Increased ridership on the City of Simi Valley/Transit Americans with Disabilities Act/Dial-A-Ride and Fixed-route services from 300,000 passengers to over half a million, annually;
Took the lead as the City of Simi Valley/Transit transitioned its fleet of diesel fueled buses to clean-burning compressed natural gas (CNG);
Facilitated the planning, construction and implementation of the City of Simi Valley's CNG fueling station;
Functioned as the Project Manager during both phases of the overhaul and upgrade of the City of Simi Valley's CNG station; and,
Spearheaded the design efforts of the expansion and modernization of the City's Transit Maintenance Facility, which when completed, received a Gold Certificate in the area of Leadership in Energy and Environmental Design (LEED®).
Chuck is also very active in the area of public transportation at the local, County and State levels. He is a current member and past Chair of the Ventura County Transportation Commission's Transit Operators Committee and serves as a member of the California Transit Association's Small Operators Committee.
ILG Contributions
Webinar speaker
Interviewed for case story