CAPCOA Model Policies for Greenhouse Gases in General Plans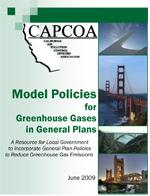 This report contains model policies for greenhouse gas reduction that can be incorporated into a General Plan (download the report on the right side of this page). The California Air Pollution Control Officers Association (CAPCOA) offers model language in nine major categories:
Greenhouse gas reduction planning (overall)
Transportation
Land use and urban design
Energy efficiency
Conservation and open space
Education
Waste reduction and diversion
Municipal Operations
Alternative energy
The report also provides a worksheet for evaluation of policies for local use, including consideration of specific local factors and criteria. The worksheet also includes links to examples of of plans that have incorporated the model policy, or a similar policy, to provide more in-depth understanding of what has been done, under what circumstances, and how.
Finally, the report contains technical appendices that provide more detailed information about greenhouse gases, programs that address them, the projected impacts of climate change, climate science, the top ten actions local governments should take, the roles of different agencies on climate and GHG, and examples of plans and policies that have been adopted in California as well as other resources.
---
This description was adapted from the report's Executive Summary. CAPCOA is an Association of Air Pollution Control Officers representing all thirty-five local air quality agencies throughout California.