Bay Area Green Business Program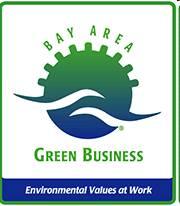 The Bay Area Green Business Program is a network of 9 county based programs coordinated by the Association of Bay Area Governments (ABAG). The Program assists and recognizes small businesses and public agencies that implement measures to conserve energy and water, minimize waste and prevent pollution. The Program recommends dozens of best practices, many of which reduce greenhouse gas emissions, and verifies that businesses meet the standards. More than 1,800 businesses have been certified since 1996.
Program Highlights
Serves small to medium, primarily consumer-oriented firms.
Initial funding provided by US and California EPA grants; ongoing operations funded by counties and partner agencies.
First compliance, standards–based, comprehensive small business certification program in state.
Model for similar programs in Santa Cruz, Monterey, Santa Barbara, San Diego counties, Santa Monica and Los Angeles.
Lessons Learned
Program partners provide in-kind or financial contributions; it is important to include them in key decisions and demonstrate the value of their participation.
Partners perform site visits to verify that businesses are implementing enough measures to meet the standards, ensure integrity, and promote additional improvements.
Collaboration with business and economic development organizations and trade associations boosts visibility, provides real world expertise, and aids recruitment
Resources
The Rest of the Story…
ABAG's Green Business Program was launched in 1996 and the first businesses were certified in 1997. The initial motivation behind this effort was to improve compliance and pollution prevention among small businesses such as vehicle repair shops and printers that collectively generate significant amounts of hazardous waste and adversely impact air quality. Organizers saw an opportunity to expand the concept to include energy and water conservation and solid waste reduction.
ABAG's Hazardous Waste Management Facility Allocation Committee whose members include elected officials and senior staff from the nine Bay Area counties, initially proposed the Program. Development was led by ABAG staff and a team of stakeholders, including local, regional, state, federal agency and utility company staff and business representatives. Each county administers its own local Green Business Program, with regional coordination from ABAG. A number of local governments, such as City of Berkeley, Contra Costa County, and Napa County, have incorporated participation in the Green Business Program as part of their climate action plan.
Participating businesses must implement dozens of measures to conserve energy and water, reduce solid waste and prevent pollution. Required measures include installing energy efficient lights; stocking recycled paper; replacing inefficient restroom fixtures and irrigation systems; maintaining all HVAC equipment in top condition; joining Spare the Air.
Along with helping to make businesses greener, the Green Business Program provides the following co-benefits:
Improves regulatory compliance
Helps agencies and utility companies achieve conservation/pollution prevention objectives
Fosters interagency cooperation/coordination
Establishes constructive relationships with businesses, facilitating ongoing education and improvement
Boosts business viability – more efficient businesses are often more successful
Provides residents with a way to identify green businesses
To date, effectiveness has been determined by the number and types of businesses certified. In the third quarter of 2009, the Program will launch a custom-designed measurement and management system that will record what a business does to qualify and measure the amount of energy and water conserved, waste diverted, pollution prevented and greenhouse gas emissions reduced.
Initially, outreach was conducted via presentations to partner agencies, who promoted the program to the businesses they served. The Program also worked with trade associations (e.g. auto service councils), enlisting their assistance in recruiting their members. Industry specific brochures were printed and distributed. As the Program expanded, coordinators partnered with Chambers of Commerce and Economic Development organizations to reach more businesses. Local coordinators joined emerging green business associations and co-sponsored networking events. Exhibits at Earth Day and other environmentally themed celebrations, and at regional events such as Green Festivals extended outreach beyond business recruitment to the general public. Local coordinators also established relationships with the local business media that resulted in feature stories about the Program and certified businesses.
Stakeholders include public agency and utility company staff with energy and water conservation, waste reduction and pollution prevention expertise. They are involved in development of new and updating of older industry checklists and standards.
Case Story provided by BAAQMD and ABAG, August 2009.